Winter Miles. Summer Smiles – 5 essential top tips for training in winter!
A successful summer riding season often comes down to one thing —your winter training plan. You'll reap the rewards in summer – especially during Ride Across Britain – from the work you put in during winter.
It can be a challenging time to keep motivation levels high as the days get shorter, darker and colder. But with the correct knowledge and right mentality, there's nothing stopping your winter training becoming your favourite season to train in.
We reached out to some of our previous Ride Across Britain participants and asked for their top tips to stay safe and motivated during the winter months. We've condensed all of their great advice into five of the key tips that came up most frequently.
Top tip 1- Safety (always) comes first
"Definitely don't shy away from it now, look at it as perfect training weather, you'll appreciate it as you descend the Lecht in a heavy cold downpour!"
-Andy Turner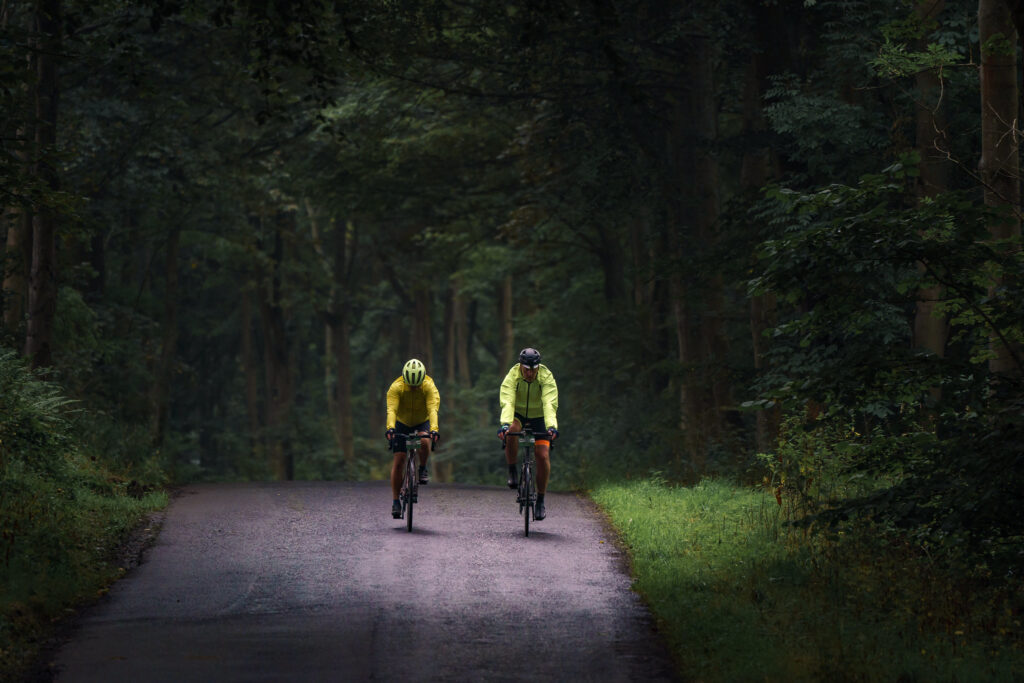 One of the most important tips that was mentioned was the need for an increase in safety awareness. We all know that icy mornings and bikes have never, and will never, be a good combination. Take it easy when approaching bends when the conditions are wet or frosty – even if that means your average speed is reduced- a lower average speed is a much easier to deal with than time off due to a serious injury.
Although we would recommend only riding during daylight hours, we know most of our RAB community balance their work and personal life on-top of training. Using lights and reflectors on your bike at night is a legal requirement in the UK if you're training in the early morning or evening darkness it's essential that you can be seen by other road users and pedestrians at all times.
According to the UK's Road Vehicles Lighting Regulations (RVLR), a white light must be showing from the front of your bike and a red light from the rear, so make sure you're glowing like a Christmas tree before you head out during the winter months.
Top tip 2- Layer, layer, layer
"30 seconds of bravery gets you out the front door. The rest is easy (if you've got the right gear on!)."
-Rich Woolgar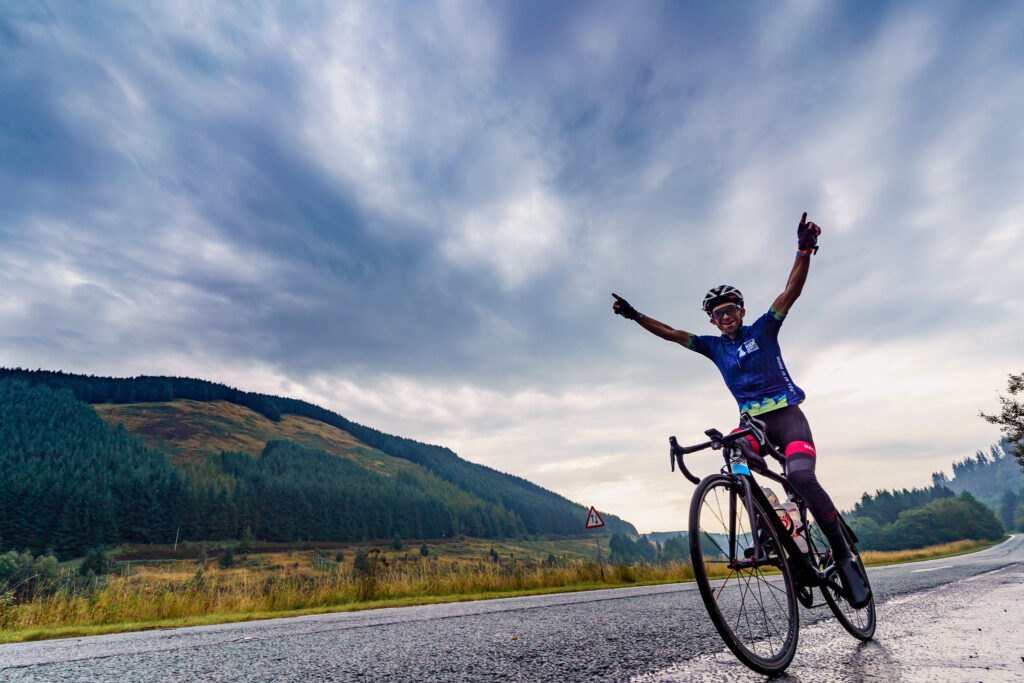 Black Friday Deals, Boxing Day and January Sales! If the winter sales alone aren't enough to persuade you to grab some new kit at a bargain price, then at least listen to our previous RAB participants.
Wearing the right kit can make or break a winter ride. Wear packable layers you can take off when you start to pick up the pace or get onto a tough climb (believe it or not, even in minus degrees, you can still break out in an impressive sweat). Full zips on each layer and gloves that allow zip control are effective ways to ensure heat release is available. You don't want to have the embarrassment of coming home early during a winter cycle saying you are too hot; your bluff will be called!
If you need an extra push to splash out on new gear, Joshua Peter Fitzgerald, a previous RAB'er has a great reward system where if he reaches his weekly or monthly target of hours on the bike, he will treat himself to a new jersey or item of cycling clothing.
Top tip 3- "You gotta stretch honey"
"Get in the habit of stretching. Day after day on the bike takes its toll on the body."
-Nick Hall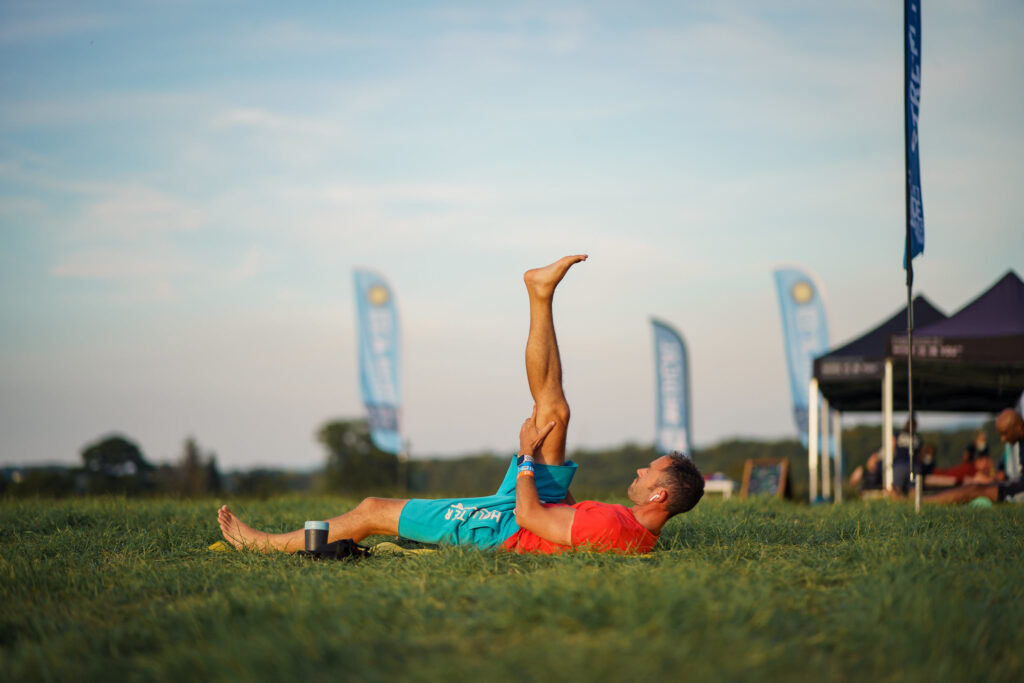 The winter months are renowned for an excess of injuries amongst all sportsmen and woman. To increase your chances of avoiding any painful injuries your warm up and cool down should become an essential part of your training routine.
A good amount of time spent properly stretching (inside is recommended for some extra warmth) will help combat any persistent injuries. 10-20 minutes of stretching is worth it for the sake of weeks or months off due to injury!
Top tip 4- Hydration stations and fuelling yourself
"Despite the cold, keep taking on water and snacks regularly even if you don't think you need it so you're fuelled for the day."
-Joshua Peter Fitzgerald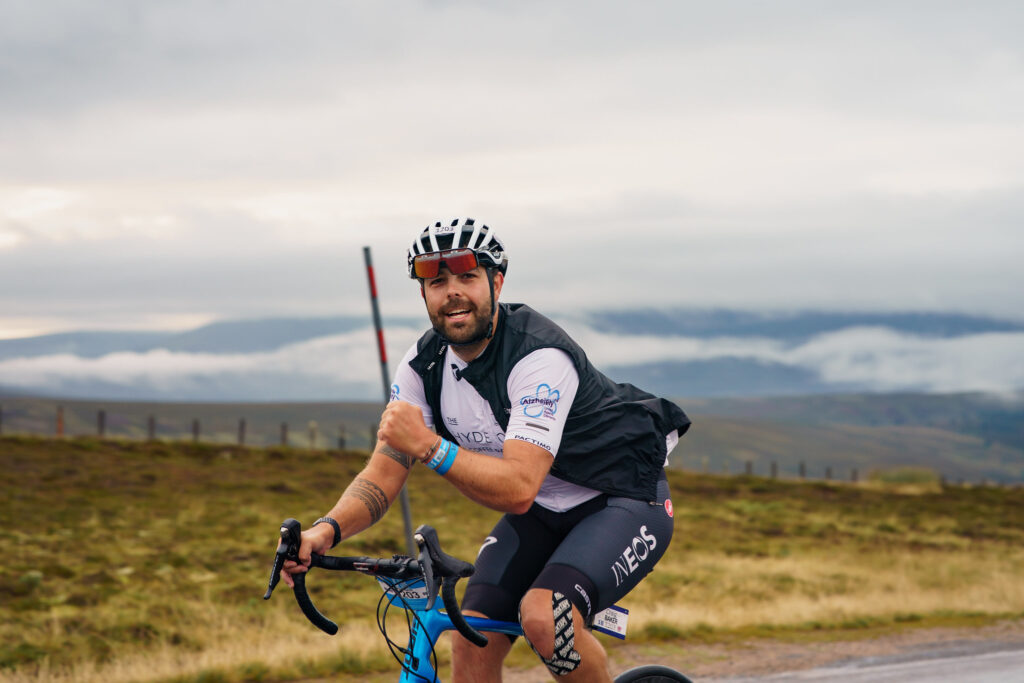 Keeping yourself hydrated is often more associated to the summer when the weather is warmer and sweat rates increase. However, hydrating properly in winter is arguably more difficult due to the cooler weather and drier air.
A stronger electrolyte drink can be more effective as it is a well-documented fact that your body wants to use the toilet more in the cold. A stronger electrolyte drink is also good for ensuring your body holds on to more of the fluids you take in.
When it comes to fuelling yourself, many may not see this as being an issue (myself included), it's important to make sure you're eating enough during any ride. Try to remind yourself that eating something little and often will keep your energy levels up, which will make your ride seem more manageable. Put your favourite sweet in your jersey pocket as a boost when you start to feel like you've got nothing left in the tank.
Top tip 5- Just do it!
"1. Ride your bike. 2. Ride your bike 3. Ride your bike. 4. Rest & Recuperate 5. Start again at No.1 – More is in you!"
-Justin Wall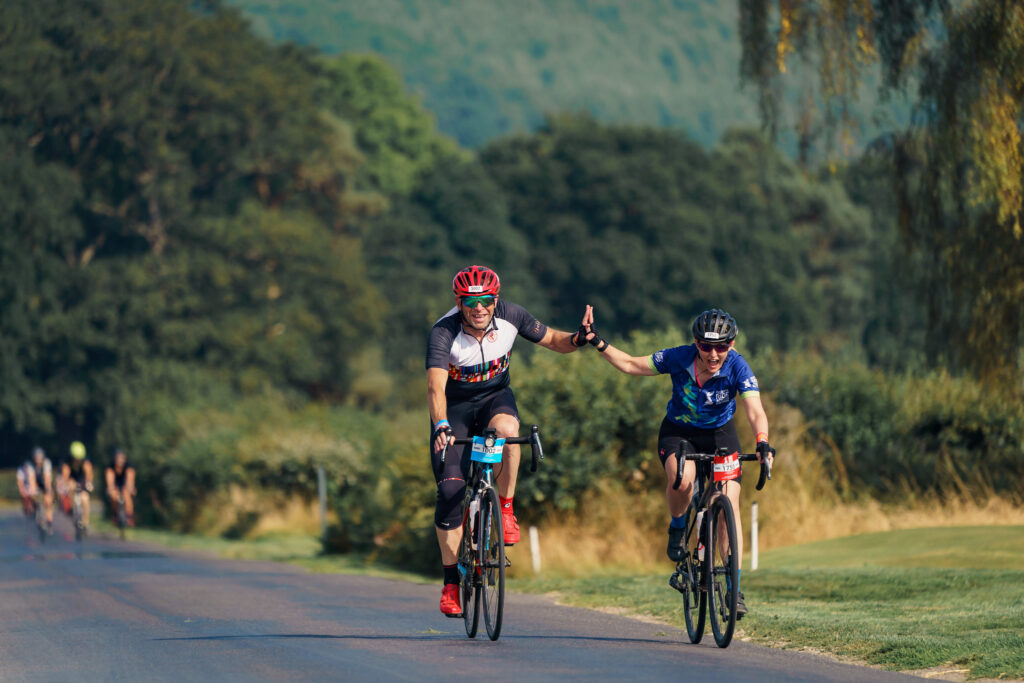 Aside from all of the important tips above, the main driver for getting out on your bike during winter is actually getting out on your bike! Although it may not always look appealing and you won't always fancy it, you'll never regret getting out. The feeling of ticking another training session off, or exploring your local lanes in a new season will always be worth it.
If you are struggling to find the motivation, reduce your hours on the bike. For example, instead of all-day rides, try cut it down to 2-3 hours that you leave wanting more instead of dreading the next one.
And most importantly, ENJOY IT! It isn't supposed to be a chore, we are all part of this RAB community because of our shared love for cycling. Some may even argue that riding on a crisp, sunny winter day is as, if not more, beautiful then a super sweaty summer ride, and we might have to agree!
By Lydia Rowan