I've ridden Deloitte Ride Across Britain in 2016, 17 and 19.
In 2015 I signed up for RAB at 27 Stone with an idea that the training was going to make me fitter and live longer. I was doing it for me, but most of all for my wife and 3 young children. I wanted to show our children that you can achieve anything you set your mind to.
In 2016 when I arrived at base camp at Lands' End, the enormity of what I had taken on suddenly sunk in. All I saw was very fit people who knew exactly what they were doing; me, I had never experienced anything like this before. The support that these very fit people gave me and the camaraderie, along with the Threshold support team and chaperones, helped me to believe I could do this as each mile and day went by. I was always the first out and generally last in every day, spending around 12 hours a day in the saddle. I spoke to everyone as they passed me on the ride but as each day went by, I fought back to be able to make it through and not be on the dreaded "Broom Wagon". The best moment of 2016 was crossing the line at the Kyle of Sutherland. There was a huge cheer that I did not know at the time, was for me! Emotions were certainly high when I received the "The More is in You" award that evening. The relationships that I've built from Deloitte Ride Across Britain are truly life-lasting. The focus had always been the finishing line. Because of the Threshold support Chaperones and the relationships I gained during the ride, I had developed the strength to complete the next day and cross the finish line in John O Groats. I can't even begin to describe the emotions I felt when I saw my children supporting me over the finish.
Fast forward three years and I managed to get to camp every day at around 3-3.30pm and enjoy a warm shower, afternoon tea and time to relax! Each day I found myself feeling better than I did the day before. I also enjoyed playing the game with people I'd met in 2016 who did not recognise me because I now weighed 14 stone, as opposed to 27.
After 2016 and 2017, I realised the pressure I was putting on myself and on the support team during my rides.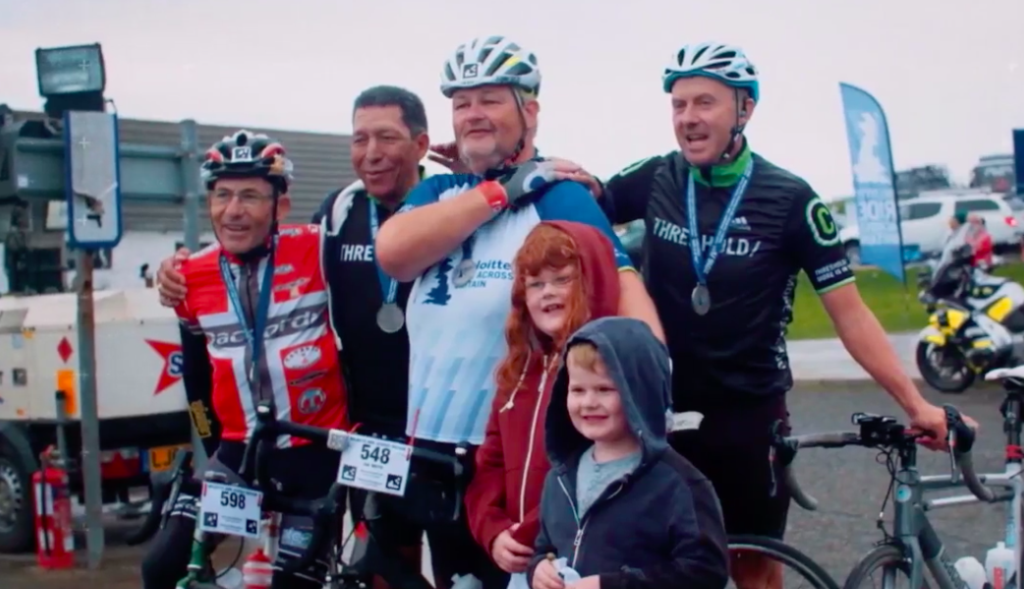 In 2018 I made the conscious decision to change my lifestyle. In August 2018, I decided I wanted to lose 10 stone within 1 year. My weight loss was going well; cycling and running daily to improve my core fitness. Daily time in the saddle is definitely invaluable. 1 year later, by August 2019, I had lost 12 stone. I even challenged myself to run the Loch Ness Marathon in October 2019, just weeks after completing RAB.
Emotionally, Deloitte Ride Across Britain has delivered many highs and lows; the highs outweighing the lows three-fold. The things you learn about yourself during this dedicated time are life-affirming. The fear running through you as you cross the start line, to the ecstatic feeling of relief when crossing the finish line, must be lived. Mentally, you have to "begin with the end in mind".
2021 first timers – make sure you have saddle time in training each day. Make sure you cycle hills on a regular basis. It will make a massive difference to your confidence and to the pleasure you will get from the ride. My last piece of advice is to complete longer training rides that include a climb at the end.
An expression that has helped me on the rides I have completed – " I don't get my imagination mixed up with my capabilities". Deep down, you know how much you have trained or not, so do not get carried away. It's a tough 9 days without putting extra pressure on yourself.
Ride at your own pace and enjoy the experience. Also, after the first few days you will meet people going at your pace, join together to help each other through. I cycled 90% of the 2016 Ride on my own due to the lack of confidence in myself and in my cycling ability. In 2019, after day 4 I was riding in a group daily and we all helped each other, and it made a huge difference. But when all is said and done, it is a bike ride. Enjoy it, it's life-changing and incredibly rewarding.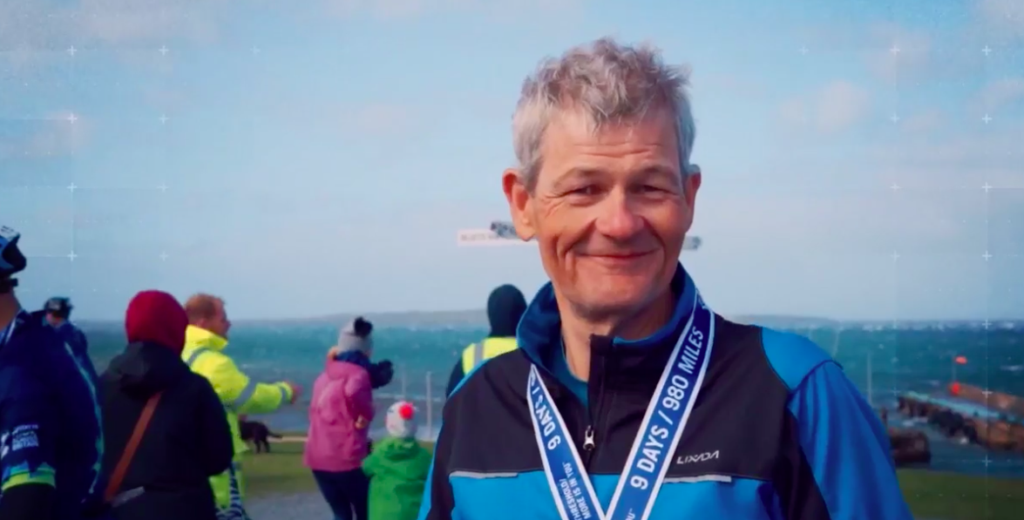 By Iain Whyte