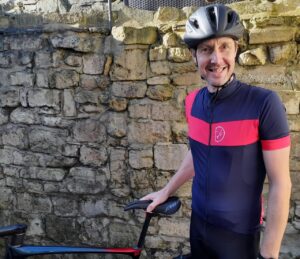 We hear so many inspirational stories from our riders about why they are taking part in Ride Across Britain and love to share as many as possible. Whether you're signed up for 2022 and getting to know your fellow riders, or seeking the inspiration to join us on the ride this series provides a great insight into what motivates someone to ride the length of Britain!  In this short blog we meet Rob, taking part in Ride Across Britain for the first time in 2022. After being diagnosed with Bowel Cancer, Rob was looking for a challenge to focus and also give back something to Macmillan whose support was invaluable.
What motivated you to sign up for Ride Across Britain 2022? 
Whilst working at Bath University I saw Ride Across Britain come through and was always intrigued by the event,  after being diagnosed with Bowel Cancer, I wanted something to focus on, and set my sights on getting fit enough to take on an epic cycling challenge. My diagnosis meant I had to cancel a planned trip to ride some of the iconic climbs around Alpe d'Huez with a great friend Nigel. Having always been intrigued by the event as it passed through Bath, Ride Across Britain seemed like the right challenge to sign up for.
How will you be training and preparing for Ride Across Britain 2022?
It is great to be doing the event with my old running training partner.  Nige is a great motivator and we're used to working on structured training plans from our running days.  We'll look to build up our long rides together over the next few months and maybe enter some Sportive events.
I have downloaded the RAB training plans which have been a good source of motivation and given me some direction and also made me nervous about what I need to do. I will be aiming to keep pace with the intermediate plan and see how it goes.
I also decided to join a local cycling club which I hope will help me to get out on the longer rides, as I reckon getting over 100km is going to be a bit tricky!
What are you most looking forward to on Ride Across Britain 2022?  
To give something back to Macmillan, who helped me and my family through some difficult times over the last 18 months.  I'm also massively excited to challenge myself as I've never done anything quite like this before.
How did Macmillan help you during your treatment?  
Macmillan was just there whenever we needed them.  My wife leaned on their services hugely – either to get clinical information from the Macmillan Nurses or to connect with their online community to speak to other people experiencing bowel cancer.  The Macmillan community, in particular, let us access first-hand advice and guidance from people who you felt knew what you were going through, understood the kind of questions and worries you had, and who just really cared.
How has exercise aided your recovery?
Exercise has been the one of the key motivating factors behind my recovery. Having dedicated so much of my life to sport, I couldn't imagine not exercising and testing what my body can do. I wasn't sure that after surgery and with a stoma I would be able to push myself like I did before, but to be honest I'm probably fitter now than before I was diagnosed!
How have your previous diagnoses affected your life thus far?
Cancer hasn't stopped me doing anything. I was determined to get back into exercise as quickly as possible after my treatment ended, as sport has been a huge part of my life. Cancer has changed my outlook on life though and more so now than ever, I want to make sure I spend time doing things that are important to me.